Boiler & Refrigeration Operator Job @ Nebraska
Boiler & Refrigeration Operator
Company Offering Job / City / State
Wholestone Farms – Fremont, NE
Direct Link to URL for more information on job
https://workforcenow.adp.com/mascsr/default/mdf/re
Requested Experience / Education
High school diploma or general education degree (GED) and completion of a formal trades training program, or an equivalent number of years of education and maintenance experience. GCAP Operator I or equivalent. CARO Certification (Certified Assistant Refrigeration Operator). One year minimum mechanical experience. One year minimum assistant operator experience. Working knowledge of OSHA and EPA Process Safety Management requirements. Knowledge and ability to perform Lock Out Tag Out, Hot Work, and Confined Space procedures.
$28-31/hour Medical, dental, vision and 401(k), all with a strong company contribution
Start, shut down, adjust, repair plant refrigeration & boiler equipment Read, interpret, understand manufacturers' equipment manuals, equipment operating procedures Complete work orders & follow safety procedures Maintain daily engine & boiler log sheets
Contact Name / Contact Email Address / Contact Phone Number for more information.
cmmcbratney@wholestonefarms.com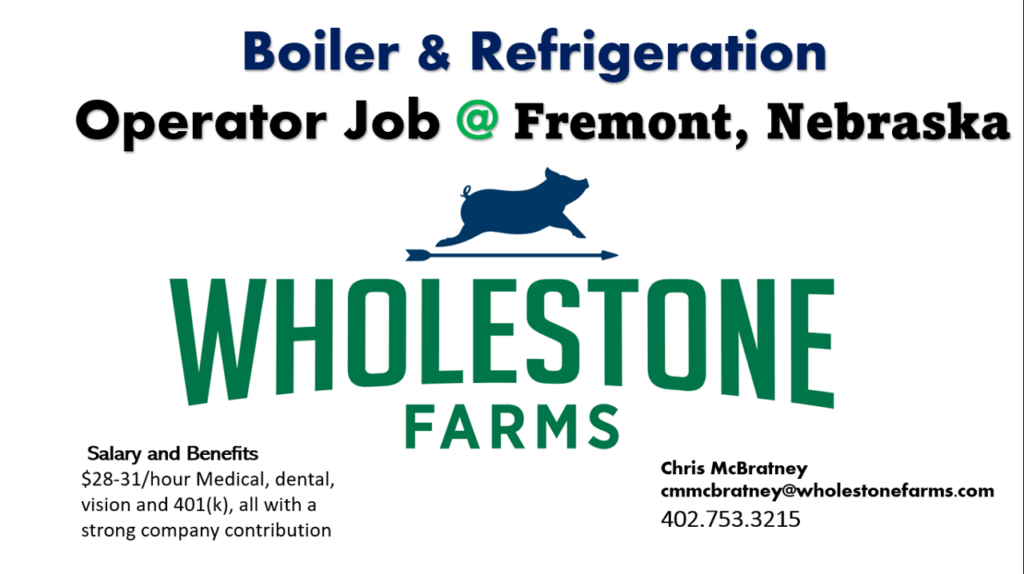 Ammonia Refrigeration Training Solutions – ARTS